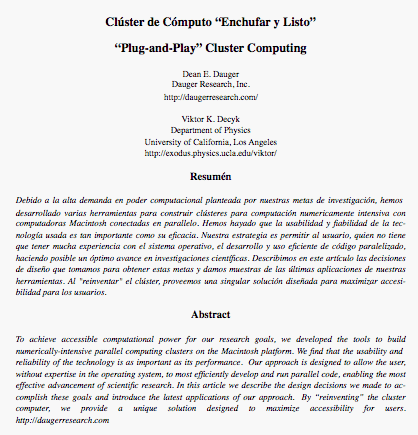 Resumén:
Debido a la alta demanda en poder computacional planteada por nuestras metas de investigación, hemos desarrollado varias herramientas para construir clústeres para computación numericamente intensiva con computadoras Macintosh conectadas en parallelo. Hemos hayado que la usabilidad y fiabilidad de la tecnología usada es tan importante como su eficacia. Nuestra estrategia es permitir al usuario, quien no tiene que tener mucha experiencia con el sistema operativo, el desarrollo y uso eficiente de código paralelizado, haciendo posible un óptimo avance en investigaciones científicas. Describimos en este artículo las decisiones de diseño que tomamos para obtener estas metas y damos muestras de las últimas aplicaciones de nuestras herramientas. Al "reinventar" el clúster, proveemos una singular solución diseñada para maximizar accesibilidad para los usuarios.
Abstract
To achieve accessible computational power for our research goals, we developed the tools to build numerically-intensive parallel computing clusters on the Macintosh platform. We find that the usability and reliability of the technology is as important as its performance. Our approach is designed to allow the user, without expertise in the operating system, to most efficiently develop and run parallel code, enabling the most effective advancement of scientific research. In this article we describe the design decisions we made to accomplish these goals and introduce the latest applications of our approach. By "reinventing" the cluster computer, we provide a unique solution designed to maximize accessibility for users.
We thank J. Manuel Urrutia for translating the abstract.