| | |
| --- | --- |
| | Kenny's Cluster |
From Dean Dauger: In June 2001, I received an email from a fellow named Kenny. Kenny was asking about using Pooch to run his cluster of five iMacs but had encountered a little trouble.
The next day he emailed again saying he figured out the problem and that, after he remembered to set a few toggle switches, all was well. I emailed to tell him I was glad that he got it all working, and I asked him about what he was doing with the cluster, who was he, and where was he.
To my surprise, Kenny's reply was that he was in Hawaii, and that he was in the sixth grade.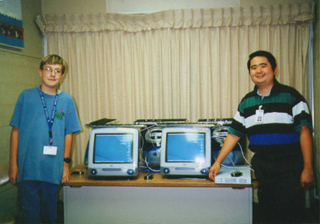 His name is Kenny Holloway. At the time, he attended Wheeler Middle school and lived on the island of Oaho. He built the cluster for his GT Technology class. Later, Kenny was kind enough to give me permission to tell his story and provide the above picture of him (on the left), his cluster, and Mr. Fujiyama (on the right), the school's Tech Coordinator who helped him gather the supplies.
We are proud to say we hit a new "low" with this one.